Restoring homes and businesses affected by fire, water, and damage from disasters is a crucial and complex process that involves various steps and expertise. When a disaster strikes, such as a fire or flood, it can leave devastating effects on properties, causing structural damage, loss of belongings, and potential health hazards.
In addition to fire and water damage, disaster restoration also encompasses other types of damage caused by natural disasters, such as storms, hurricanes, or tornados. These events can result in significant structural damage, including roof leaks, broken windows, and foundation issues. Our restoration professionals will assess the damage and implement appropriate repairs to ensure the property is safe and habitable.
Throughout the restoration process, we will work closely with property owners and insurance companies to ensure a smooth and efficient restoration, and will document the damage, provide detailed estimates, and assist with the insurance claims process. This collaboration is essential in ensuring that the property is restored to its pre-loss condition while minimizing financial burdens on the property owner.
Restoring homes and businesses affected by fire, water, and other disasters requires a skilled and experienced team of professionals. These individuals possess the necessary knowledge, equipment, and resources to handle the restoration process effectively. Their goal is not only to repair the physical damage but also to provide support and guidance to property owners during a challenging time. By restoring properties, these professionals help individuals and communities recover and rebuild after a disaster, restoring a sense of normalcy and security.
When disaster strikes, ServiceMaster Restore disaster restoration specialists are on call 24/7/365 to help our customers get their lives back to normal after unexpected events.
With over 70 years of experience in Canada, our certified professionals work by your side providing effective disaster restoration services with expert guidance. ServiceMaster Restore is an industry-leading restoration company with the knowledge and resources to fix your problem, fast.
If you've suffered property damage from flooding or other water-related incidents, fire, smoke, storm damage, or are worried about environmental pollutants like mould or asbestos, we provide immediate emergency restoration services. We aim to deliver outstanding outcomes and restore your peace of mind.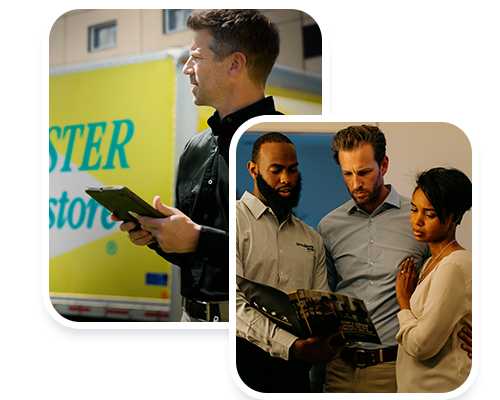 More about our services
ServiceMaster Restore:
ServiceMaster Restore residential and commercial disaster restoration services include:
Flood Damage and Water Damage Restoration
Fire Damage Restoration
Smoke Damage Restoration
Mould Removal
Catastrophic Loss
Reconstruction Services
Trauma Site Restoration
Extreme Cleaning
Hoarder Cleanup
Estate Cleanup
Vandalism Cleanup
Odour Removal
Abatement Services (Asbestos, Lead & Animal Contamination)
ServiceMaster Restore is the restoration company you can trust for reliable, comprehensive disaster restoration services.