Whatever your idea is of time well spent, we're pretty sure it doesn't include dusting, vacuuming or scrubbing floors. That's our job. Merry Maids home cleaning services give you back the time you want to concentrate on the things that you enjoy.
With 30+ years of house cleaning experience, we understand that each home and its residents are unique and that each homeowner has their own specific needs and preferences when it comes to cleaning. That's why we offer customized home cleaning services that are tailored to meet your individual requirements.
When you choose our home cleaning services, we take the time to listen to your concerns and understand your expectations. We believe that communication is key in delivering a cleaning service that truly satisfies our customers. Whether you have certain areas of your home that require special attention or specific cleaning products that you prefer to be used, we take all of these factors into consideration.
Our team of professional cleaners are highly trained and experienced in providing top-notch cleaning services. Our cleaners have the skills and knowledge to handle cleaning tasks well. They do everything from dusting to mopping and aim to leave your home clean and fresh.
We also understand that flexibility is important to our customers. Life can be unpredictable, and schedules can change at a moment's notice. That's why we offer flexible appointment options to accommodate your busy lifestyle. Whether you need a one-time deep house cleaning or regular maintenance cleanings, we can work around your schedule to ensure that your home is cleaned at a time that is convenient for you.
Furthermore, we prioritize the use of eco-friendly cleaning products and practices. We know it's important to keep your home clean and healthy, for you, your family, and the planet. Our cleaning products are chosen to be safe for people and the environment, while still being effective.
We are dedicated to giving great cleaning services and excellent customer service. We want to build lasting relationships with our clients and make sure they are happy. Our staff is friendly and professional, and they can assist with any concerns or questions you may have. We appreciate your feedback to help us improve our services.
If you need a home cleaning service that meets your needs and preferences, our team is here to help. We offer personalized house cleaning to make your home look and feel great.
Imagine a home so refreshing you want to share it with friends.
You make the list, we get it done. Each week, on your day, come home to a sparkling kitchen, groomed carpet and a whole house clean at once.
And, because we know how much you'll cherish this moment, we set your day and respect it. So there will be one smile each week you can count on. Merry Maids Canada home cleaning services are available weekly, every other week, monthly or for one-time special occasions.
We have learned from experience that there is no such thing as a typical household. To understand your cleaning needs, we will come to your home and evaluate what house cleaning services you want. This way everything is as exactly as you want it, and your quote will meet your needs and your budget.
Contact us today to schedule your first cleaning appointment and experience the difference of our customized home cleaning services. Experience the freedom and peace of mind you will have with Merry Maids Services.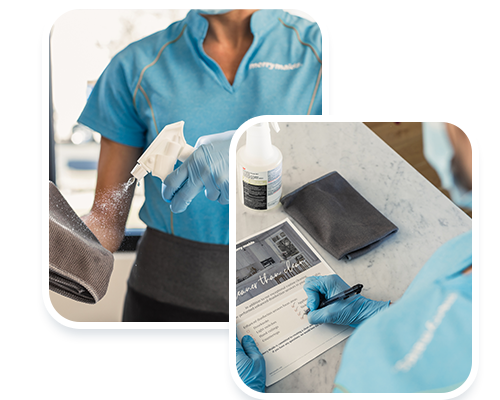 More about our services
Dusting
Vacuuming
Kitchen and appliance cleaning
Bathroom cleaning
Floor washing
Move out/in cleaning
Weekly, bi-weekly and monthly cleaning
Special occasion cleaning